About
Driving is a serious activity that demands responsibility

With over 100 years of experience, we are the #1 driving school in Luling and the wider New Orleans area. We offer a safe experience, affordable prices, and teachers who have worked for public schools.
504-487-1794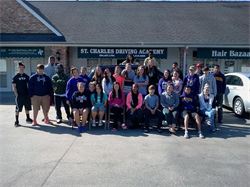 The St. Charles Driving Academy, LLC is based on the belief that our customers' needs are of the utmost importance. Our entire team is committed to meeting those needs. The owners are Roger Folse and Kevin Robicheaux. We also have 7 certified driving instructors: Barry Guillot, Nancy Schexnayder, David Robicheaux, Jasper Vinnett, Molly Robicheaux and Lou Valdin. Together we have over 100 years of teaching experience!!!
With this valuable experience and hands-on approach, we welcome the opportunity to earn your trust and deliver you the best service in the industry. Even though we are located in Luling, we welcome the opportunity to teach young adults from either side of the river (Destrehan, Norco, and St. Rose) as well as neighboring parishes.
Location :
12531 Hwy 90 Suite B
Luling LA 70070